The Joe Rogan Podcast will be exclusively available on Spotify starting September 1st after reaching an agreement for upwards of $100M+.
This is a very large pay day for Joe Rogan.
Ted Gioia, musician and author, explains that another artist would have to drive 23 billion streams on Spotify to earn that amount of cash. (assuming the typical $0.00437 payout per stream)
A musician would need to generate 23 billion streams on Spotify to earn what they're paying Joe Rogan for his podcast rights (assuming a typical $.00437 payout per stream). In other words, Spotify values Rogan more than any musician in the history of the world. Sound fair to you? pic.twitter.com/zvMdY3mIQA

— Ted Gioia (@tedgioia) May 20, 2020
It made me wonder, how much could this show possibly be worth to Spotify ? Does his value justify this price tag?
Well… yes.
As of May 21st, Spotify (NYSE:SPOT) is up about 9%, translating into over 3 billion dollars in market cap in 2 days.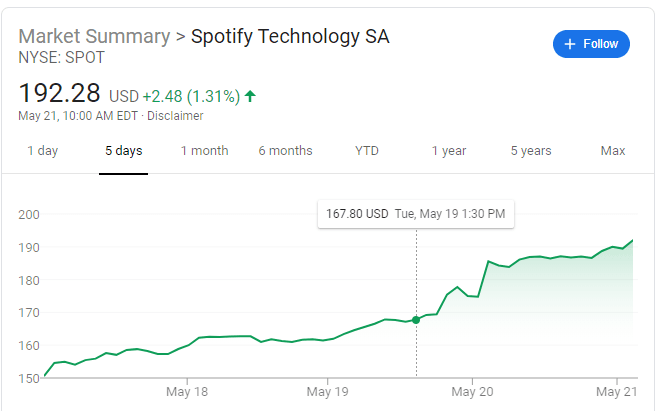 This market cap growth alone provides an incredible amount of value solely based on netting the biggest name in podcasting. But there is so much more.
If only 10% of Joe Rogan's 9 million subscribers subscribe to Spotify premium that will drive $10M+ each and every year for Spotify. Big bucks.
According to forbes, it is estimated that the podcast itself earns roughly $30M annually through advertising revenue on its own.
With the JRE's massive fanbase and healthy revenue stream, I think it is safe to say that this price tag is more than fair for acquiring Joe Rogan's podcast.
More about the Joe Rogan Experience
The Joe Rogan experience first hit the airwaves in 2009 and has grown to become one of the most popular podcasts of all time. With video views soaring into the 10s of millions and about 9 million subscribers. Joe Rogan is best known for his podcast, but his career is full of notworthy items. Joe has stand-up comedy specials, hosted Fear Factor, and has been very involved in the UFC community since the late 90s.
A good deal of the credit for the podcast's success lies with its guests. Some of the most popular videos include guests like billionaire Elon Musk (which gave us this gem of a photo), Robert Downey Jr., Senator Bernie Sanders, Mike Tyson, and Kevin Hart. The podcast also is well known for its interviews with much more controversial guests like Edward Snowden and Alex Jones.
I certainly think it is safe to say that Spotify has made a very sound investment by acquiring the Joe Rogan Experience podcast. It will be very interesting to watch this podcasting / video space evolve between Spotify and Youtube.
IF you have any interest in listening to one of Joe's podcasts, check out my favorite episode – sleep doctor Matthew Walker
Check out the top five highest earning podcasts last year below:
1.) Joe Rogan: "The Joe Rogan Experience" – $30 million
2.) Karen Kilgariff and Georgia Hardstark: "My Favorite Murder" – $15 million
3.) Dave Ramsey: "The Dave Ramsey Show" – $10 million
4.) Dax Shephard: "Armchair Expert" – $9 million
5.) Bill Simmons: "The Bill Simmons Show" – $7 million